When it comes to creating a comfortable and functional living or working space, lighting is a crucial factor to consider. Not only does it play a key role in establishing the atmosphere, but it also has an impact on our health, wellbeing, and productivity. Selecting the right light bulb for your space can make all the difference, but with so many options available, it can be overwhelming to know where to start. That's why it's important to choose a reliable and knowledgeable lighting solutions provider, such as Keystone Lighting, who can help you make the right choice for your needs.
A Brief History on Keystone Technologies
Keystone Technologies was established in the 1940s by two brothers-in-law, Marvin Spielman and Harold Fox, who returned from World War II and saw the potential of fluorescent lighting. They started Keystone in Philadelphia with the goal of manufacturing ballasts and transformers for the lighting industry. The company soon became a strategic supplier for the ballast and transformer needs of several leading fixture manufacturers.
Now in its third generation of family leadership, Keystone is focused on the future and continues to evolve to meet the changing demands of the lighting industry. The company is dedicated to quality, leadership, and personal service, as it has been since its first sale in 1945.

Why Choose Keystone Lighting?
With the rise of LED technology, Keystone expanded its product line to include LED drivers and then LED modules and light engines. The company's expertise in ballast manufacturing allowed it to quickly develop high-quality LED products and become a primary supplier for a variety of OEM accounts.
Keystone also saw success in the LED lamp business, with the introduction of LED boards and tubes, including linear, compact and HID lamps. The LED products are the fastest growing segment of Keystone's business and the company is committed to keeping up with the latest technology.
Today, Keystone offers a wide range of lighting products, from lamps and fixtures to power supplies and controls. The company has also embraced the LED market, focusing on innovative products, such as wireless controls and programmable drivers, as well as a customer-focused approach to service. Keystone's mission is to make lighting simple, convenient, and enjoyable through their philosophy of "Light Made Easy". With hundreds of employees working both on-site and remotely, Keystone is headquartered in Lansdale, Pennsylvania, Keystone has even been awarded by The Philadelphia Inquirer as One of Philadelphia's Top Workplaces 2022.
Choosing the Right Light Bulbs for Your Space
Lighting is one of the most important elements in any space. Not only does it set the mood and ambiance, but it can also impact the functionality of the room. That's why it's crucial to choose the right light bulbs for your space. With the many options available on the market, it can be overwhelming to make the right decision. So, to help you out, let's explore the three key factors you need to consider when choosing light bulbs: brightness, temperature, and energy efficiency.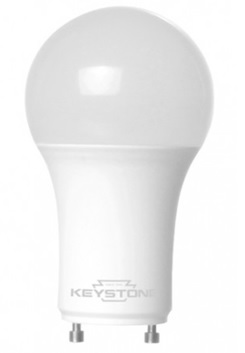 1. Brightness
Brightness, also known as lumens, is a measure of the amount of light produced by a bulb. When choosing light bulbs, it's important to consider the brightness level you want in a particular room. For example, you may want a brighter light in a kitchen or workspace, while a softer light may be more suitable for a bedroom or living room. A good rule of thumb is to choose a bulb with a brightness level of around 100 lumens per square foot of the room.
2. Temperature
Temperature, also known as color temperature, refers to the warmth or coolness of a bulb's light. Color temperature is measured in Kelvins (K) and ranges from warm white (2700K) to cool white (5000K).
Warm light has a low color temperature (2700K-3000K) and appears yellow or orange. This type of light creates a warm, cozy, and inviting atmosphere, making it ideal for spaces such as bedrooms, living rooms, and dining rooms. Warm light is also said to improve relaxation, reduce stress, and increase comfort levels.
Cool light has a high color temperature (5000K-6500K) and appears white or blue. This type of light is ideal for task-oriented spaces like kitchens, bathrooms, and home offices where more clarity and brightness is needed. Cool light is also said to increase energy levels and enhance focus, making it a good choice for areas where you need to be alert and focused.
It's important to choose the right temperature for your light bulbs as it can greatly impact how you feel and behave in a space. For example, using warm light in a kitchen or bathroom may create a relaxing atmosphere, but it won't provide the clarity and brightness needed for tasks. On the other hand, using cool light in a bedroom may make it difficult to relax and get a good night's sleep.
When choosing light bulbs for your space, therefore, it's important to consider the temperature or color of the light and how it will affect you and the atmosphere of the room. Whether you prefer warm and cozy or bright and energetic, make sure to select a temperature that fits your needs and enhances your space.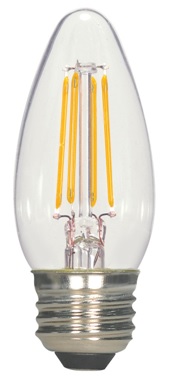 3. Energy Efficiency
Energy efficiency is a crucial factor to consider when choosing light bulbs. Energy-efficient bulbs not only save you money on your energy bill but also help reduce your carbon footprint. LED light bulbs are the most energy-efficient option on the market and also have a longer lifespan compared to other types of light bulbs. When choosing LED bulbs, look for bulbs with a high energy-efficiency rating, such as Energy Star.
Order the Best Keystone Lighting Solutions Online
In conclusion, choosing the right light bulbs for your space can significantly impact the mood, atmosphere, and energy efficiency of your home or workplace. By considering factors such as brightness, temperature, and energy efficiency, you can select bulbs that best suit your needs.
LightBulbWholesaler.com is proud to offer a broad selection of Keystone Lighting's leading products, including an extensive array of light bulbs available in various base types, light output ratings, and color temperatures. Whether you're looking for fluorescent lamps, HID lamps, LED lighting products, or other controls, LightBulbWholesaler.com has you covered.
Browse through our catalog and feel free to reach out to us if you need assistance in finding the perfect Keystone Technologies product for your specific application. Upgrade your lighting today and experience the difference that Keystone Lighting can bring to your space!